Account Executive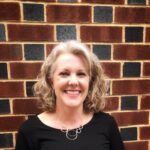 Robin Hatfield joined NTP Events in September 2022. An Account Executive, she sells exhibit space and sponsorship opportunities for DEMA and SpaceCom | Space Congress Expo.
Prior to joining NTP events, Robin was a member of the Sales and Business Development team at the Consumer Electronics Association. She has also worked on the corporate side of tradeshows and events in the medical device, semiconductor and telecommunications industries.
Robin has a B.A. in Sociology from the University of California at Santa Barbara. In her spare time, she enjoys spending time with family, reading, and volunteering with the Girl Scouts and within the military spouse community. A Californian at heart, the beach is her happy place.
Fun Facts
What was your very first car?
1980 Volvo 240
What was the first concert I went to
Lollapalooza 1995! The headliners were Smashing Pumpkins and the Beastie Boys.
Where did you go on your honeymoon?
Ireland
What is the strangest thing you have eaten?
Pigeon at a Parisian restaurant in Amsterdam.