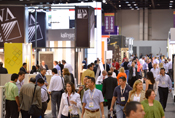 Attendance at Coverings 2012, held April 17-20 in Orlando, increased 19% over 2011, with registration totaling well over 22,000. Produced by National Trade Productions, Coverings is North America's largest tile and stone exposition. While all attendee segments showed double-digit increases, the fastest-growing category came from architects and designers, increasing 84% over 2011. The number of exhibiting companies also increased by 24% and the number of square feet of exhibits was up 14% compared to Coverings 2011.
"The increases are the result of a very strategic and aggressive marketing program," according to Karin Fendrich, Chief Operating Officer of NTP. "We left no stone—or tile—unturned to make Coverings 2012 a success," she says, "including several new initiatives to attract attendees."
Those initiatives included:
Coverings Central—a 1,500 sq ft area where attendees gathered to digitally interact and network. The highlight of Coverings Central was the 18 social-media seminar sessions that provided great tips in 15 minutes. There was also a well-attended tweetup, happy hours and prize giveaways during the show. This area drew strong participation and was a hub of daily activity throughout the four-day event.
Contractor Days—created in collaboration with the National Tile Contractors Association (NTCA), the Contractor Day program attracted more than 160 participants. Benefits included a guided tour of top resources on the show floor designed to help installers maximize their time as well as to meet and talk directly with company executives stationed in the booths during the tour hours. Tours included lunch, and the day was capped with a happy hour on the show floor in the Contractor Lounge. In fact, daily happy hours at Coverings have proved to be a welcome stimulus for business networking as well as encouraging attendees to continue perusing the exhibits until closing.
Coverings Installation and Design Awards—NTP was instrumental in the launch of a new awards program honoring projects submitted by contractors and designers. Over 70 projects were submitted and the 12 project winners received cash prizes and industry recognition.
Exhibitors Pleased with Results. Exhibitors expressed their satisfaction with the ROI delivered by Coverings 2012, and are looking forward to the show's debut in Atlanta.
Darren Caraway of Vidrepur said, "We've exhibited for eight years now, and are happy to report another very busy and successful show. We saw a variety of attendees. Most strongly represented were distributors. It's great to see distributors you currently work with, and, of course, show product to those who are learning about your company. We look forward to exhibiting next year."
Esther Halferty, of Lilywork, was pleased with this year's show. "We had good foot traffic this year, and are looking forward to exhibiting next year in Atlanta, which we know is rich with architecture and design professionals."
"We will definitely be back next year," said Enrico Guazzi, area manager of LEA Ceramiche. "We had a very good show this year, with great response to the very design-oriented products."
Promoting 2013 in Atlanta. National Trade Productions initiated several promotions at the Orlando show for Coverings 2013, including a photography booth where attendees could choose various Atlanta backgrounds for their souvenir photo, a Facebook promotion where attendees and exhibitors upload photos taken in front of a tile and stone installation with the foam peach they received in Orlando, and a design competition where Atlanta-based designers submitted artwork for the Coverings 2013 creative campaign. Attendees were able to text or tweet in their vote and the winner will receive a $5,000 cash prize and see their campaign used to promote Coverings 2013.
About Coverings. Coverings is owned by five associations: Ceramics of Italy, Tile Council of North America, Tile of Spain, National Tile Contractors Association and Ceramic Tile Distributors Association. It is the premier international trade fair and expo dedicated exclusively to showcasing the newest in ceramic tile and natural stone. It has grown to be the largest and most important show of its kind in the U.S., featuring exhibitors from more than 50 countries and attracting thousands of distributors, retailers, fabricators, contractors and specifiers, architectural and design professionals, builders and real estate developers, plus the press and journalists who cover this vital and dynamic industry. Coverings is the stage for introducing some of the most innovative tile and stone products in the world. The exposition also serves as a valuable resource for continuing education for all categories of attendees, with informative, accredited seminars and live demonstration sessions conducted throughout the four days. Thanks to the owners' intense dedication to promoting and improving this industry Coverings is all free of charge. Coverings 2013 is set for April 29-May 2, at Georgia World Congress Center, Atlanta, GA. For more information visit www.coverings.com or contact National Trade Productions, Coverings Show Management, 703-683-8500.
---
About National Trade Productions, Inc. (NTP). National Trade Productions has managed the Coverings show for 10 years. For more than 30 years, NTP has been the leader in the face-to-face events industry. NTP specializes in the management of all aspects of B2B tradeshows and events. From exhibitor and sponsorship sales, onsite exposition management, attendee marketing, conference management and housing/registration management, NTP's legacy of success drive results. For more information or questions, please contact Andrew Ortale at 703-683-8500 or aortale@NTPshow.com.