Marketing Manager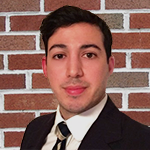 Kelley Longshore joined the NTP Events Marketing Team in September 2017. In this capacity, he works on marketing and program development for BbWorld, DEMA Show, the Air Force Association's Air Warfare Symposium and Air, Space & Cyber Conference, and Medical World Americas. He is focused on creating dynamic attendee, exhibitor, and sponsorship campaigns to enhance opportunities for networking, exposure, and lead generation at each event.
Prior to joining NTP Events, Kelley spent time as Marketing Associate for a U.S. Customs broker where he was challenged to create a more dynamic digital and social presence – specifically, he created and executed multichannel campaigns, internal and external marketing communications, press releases, and industry alerts to increase prospect engagement and retention. In addition, he spent 4 years working in various legislative capacities on Capitol Hill. Kelley is goal-oriented and brings a diverse skillset to NTP Events.
He earned his B.A. in Government from Hamilton College. Away from the office, Kelley enjoys photography, traveling, cycling, and working on his golf game.
Fun Facts
What is your dream vacation?
La Digue, Seychelles
What was the first concert you ever went to?
My first concert was Tom Petty and the Heartbreakers & Black Crowes at the Saratoga Performing Arts Center (SPAC).
What TV show are you embarrassed about watching?
I don't think that anything I would regularly choose to watch is embarrassing, more so I'm guilty by association and find myself watching reality TV with my girlfriend.
What movie have you watched more than 10 times?
Raiders of the Lost Ark